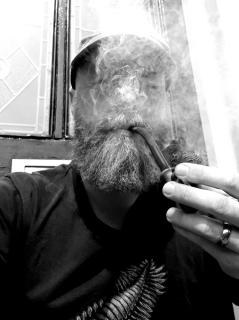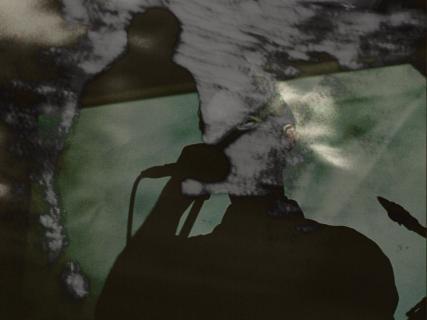 Anabatic Winds
Anabatic Winds (n.) - def.: Air flow travelling up a facing slope of an orographic surface (eg. hill, mountain). Vibrations riding the upslope of Sol Invictus.
Anabatic Winds are a new project developed from the ongoing improvisation sessions at /-\ Anabáze. The quartet consists of sax + NIMB (Bōhal), guitar (KryZe), bass (Fissile, also known from Dreare) and software (Zlom), and its music is lossely reminiscent of the Kilimanjaro Darkjazz Ensemble / Mount Fuji Doomjazz Corporation.
This Author / Performer's Events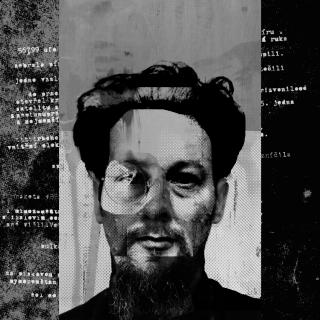 Louis Armand
Louis Armand is a writer, artist & theorist. His most recent works of criticism are Entropology (published by Anti-Oedipus Press) & Festins de Desmando, trans. Jorge Pereirinha Pires (Barco Bêbado), both 2023. He is the author of the novels The Garden (2001), Cairo (2014), The Combinations (2016), Vampyr (2020) & Glitchhead (2021). His poetry collections include DI/ODE (2023), Letters from Ausland (2011), East Broadway Rundown (2015), & Monument (with John Kinsella, 2020). His work has been anthologised in Thirty Australian Poets, Calyx: 30 Contemporary Australian Poets & The Penguin Anthology of Australian Poetry. Edited volumes include Mind Factory (2005), Contemporary Poetics (2007), Pornotopias (2008) & City Primeval: New York, Berlin, Prague (with Robert Carrithers, 2017). He directs the Centre for Critical & Cultural Theory at Charles University, Prague.
This Author / Performer's Events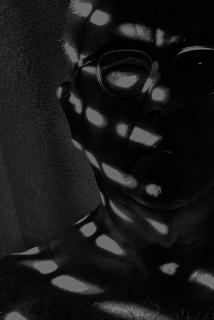 Rui Baião
Rui Baião was born on November 24, 1953, in Lisbon, Portugal, where he resides. He has practiced Medicine until 2020.
Baião has published the following titles: Quiasma (frenesi, Lisbon); MIX DIXIT (frenesi, Lisbon); nihil (frenesi, Lisbon); Aqueduto (& etc, Lisbon); SIÃO, an anthology of Portuguese poetry with Paulo da Costa Domingos and Al Berto (frenesi, Lisbon); Maligno (frenesi, Lisbon), Nuez, with photos by Paulo Nozolino, (frenesi, Lisbon); bone lonely, with photos by Paulo Nozolino (Steidl, Germany); naevus (Abysmo, Lisbon); Asco (DSO, Coimbra); Rude (Averno, Lisbon); Insane (Averno, Lisbon); Antro (Averno, Lisbon), Barbearia Tiqqun (viúva frenesi, Lisbon); balabela (Bestiário, Lisbon); paciente zero (Barco Bêbado, Lisbon); SCARAMUCCIA (Bestiário, Lisbon); STRANGVLATORIVM (Barco Bêbado, Lisbon); MOTIM (Barco Bêbado, Lisbon).
This Author / Performer's Events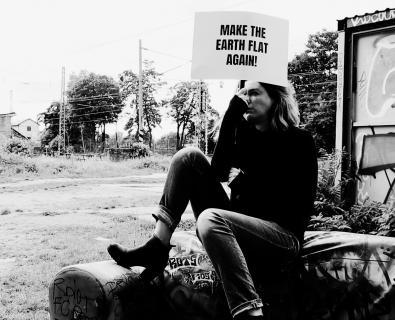 Jo Blin
Jo Blin is an angry immigrant and a multimedia artist currently based in Prague, where she co-founded the Obejvák project space.
Often lost in light pre-apocalyptic thoughts, her experiments, images and words go from bold statements to vain protests, unheard prayers, and powerlessness-infused self-portraits. But don't worry, she's okay.
This Author / Performer's Events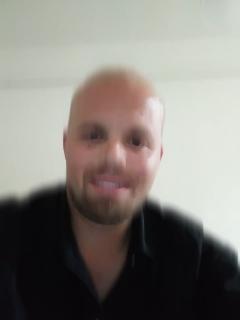 Dustin Breitling
Dustin Breitling is one of the founders of Diffractions Collective. He has curated Thanatropic Regressions (2014), an installation which focused on the implications of accelerationism approached through the theoretical prism of geo-philosophy, and was co-organizer of Frontiers of Solitude project (2016), the Reinventing Horizons conference (2016), and the Wyrdpatchworkshop I-IV (2018-2019). He is co-editor of Reinventing Horizons (display, 2016) and Allegorithms (Litteraria Pragensia Books, 2017) and is curating a series Gaming the Aftermath.
This Author / Performer's Events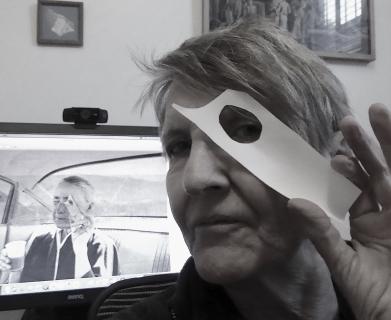 Pam Brown
Pam Brown has been writing, collaborating, editing and publishing in diverse modes for five decades. Her recent publications are Stasis Shuffle (Hunter Publishers, 2021) and A Love Supreme (now orries press, 2022). Pam lives in Australia on reclaimed swampland in south Sydney on Gadigal country.
This Author / Performer's Events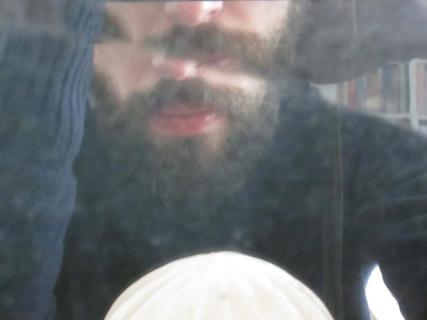 Emanuel Cameira
Emanuel Cameira (Lisbon, 1982). Sociologist, he is a Guest Professor at ESCS (School of Communication and Media Studies – Lisbon Polytechnic) and ISCTE (University Institute of Lisbon). He created the publishing house Barco Bêbado (Drunk Boat) in 2020, where, to date, he has published works by António Cabrita, Bob Kaufman, Carlo Levi, Christian Bobin, Critical Art Ensemble, David Wojnarowicz, Eduarda Neves, Eric Walker, Gianfranco Sanguinetti, Gilles Deleuze, Gilles Ivain, Gregory Corso, Guy Debord, Harmony Korine, Herbert Huncke, Katerina Gógou, Louis Armand, Michael Mc Aloran, Melchior Vischer, Miyó Vestrini, Mustapha Khayati, Osvaldo Lamborghini, Paulo da Costa Domingos, Peter Lamborn Wilson, Pier Paolo Pasolini, Rene Ricard, Rui Baião, Sean Bonney, Sergio Solmi, Victor Chklovski, Vitor Silva Tavares, William S. Burroughs, among others. Publisher's motto: cuspo fraternalmente em vós (I spit on you fraternally – a verse by the Portuguese poet José Manuel Pressler).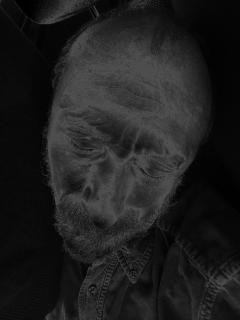 Paulo da Costa Domingos
Paulo da Costa Domingos (b. Lisbon, 1953) is a self-taught writer, publisher, and book antiquarian. He started publishing poetry at the age of 19, during the Portuguese dictatorship, and has published over fifty volumes, among which his poetic anthology Urbe Sub Rosa – Carmes 1972-2021 (Barco Bêbado, Lisbon, 2022). His prose was published as Narrativa ([Narrative] Alambique, Lisbon, 2016) and A Morte dos Outros – Pastiches & Visões ([The Death of Others – Pastiches and Visions] Alambique, Lisbon, 2023).
Domingos is further known as the publisher of the publishing house Frenesi | viúva frenesi, a house where – self-taught and son of a cartographic draftsman – he has turned graphic arts into an unyielding vortex amidst the aesthetic mud pulsating in commercial bookshelves. The graphic design of the catalogue of the publishing house Barco Bêbado is the most recent litmus test of half a century of acquired skills.
This Author / Performer's Events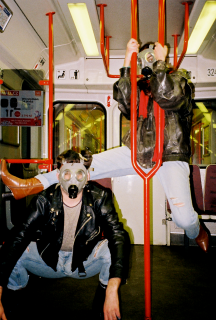 David's Sister
David's Sister is a Prague-based sound project by Tyko Say and Sandra Pasławska inspired by midnight corner store culture, making out in taxis, downtown wigs, the 96, s sebou to go, flowerpot falling from bitch's ledge, out of-tune storytelling, and how it feels to do all of that all the time at the same time. 
This Author / Performer's Events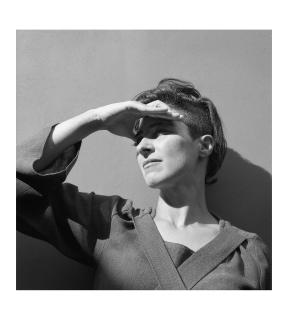 Irmgard Emmelhainz
Irmgard Emmelhainz is a global scholar, writer and professor based in Anahuac Valley (Mexico City). She holds a Ph.D. from the Art Department at the University of Toronto (2009) and an M.A. in Art History, Theory and Criticism from The School of the Art Institute of Chicago (2004) funded by a Fulbright-García Robles and a Jumex Foundation grant. Her work about film, the Palestine Question, art, culture and neoliberalism has been translated to over a dozen languages and she has presented it at an array of international venues including the Universidad Distrital in Bogotá, SVA in New York, University of California in San Diego, the Faculty of Fine Arts at the University of Porto, KHIO in Oslo, etc. The Sky is Incomplete: Travel Chronicles in Palestine is forthcoming with Vanderbilt (2023). Also in English there are Jean-Luc Godard's Political Filmmaking (Palgrave Macmillan in 2019), Toxic Loves, Impossible Futures: Feminist Living as Resistance (Vanderbilt, 2021) and The Tyranny of Common Sense: Mexico's Postneoliberal Conversion (SUNY 2021). She is currently curatorial research fellow at the Blackwood Gallery in Canada working on a book project and exhibition titled Gut_Brain 1: Destructive desires and other destinies of excess. She is member of the Mexican National System of Creators in the category of essay since 2018 and faculty at La Esmeralda, National School of Engraving, Painting and Sculpture. 
photo credit: Yvonne Venegas
This Author / Performer's Events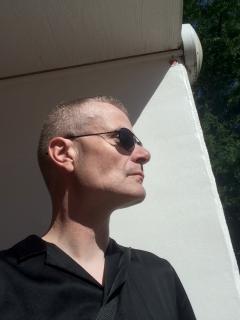 Siegmar Fricke (Pharmakustik)
Siegmar Fricke (Pharmakustik) started his earliest musique concrète-experiments in 1981. Since his activities within the global tape-scene, he has been concentrating on his solo-works and on collaborations with originators of the experimental art-scene who focus on idiosyncratic sound-architecture and decomposition: Maurizio Bianchi from Milano, Eberhard Kranemann (ex-Kraftwerk) and Conrad Schnitzler. Siegmar Fricke describes his current Pharmakustik-works as 'audiochemical soundpools'. Music with lots of references to medical processes and audiosurgical treatments.
Beside the musical projects Siegmar Fricke has been developing his decomposed collages since 1984. His artworks can be characterized as high dosed mixed-media dismemberments combined with chemotoxic political approach. Face-implants, pollution, explosions, apocalyptic scenarios, technology, psychotic convulsions, transformation and re-transformation, dramatic circulation of events…those are just a few elements that are part of Pharmakustik's new collages illustrating 'The neoplastic present' term: Pharmakustik).
The new book 'Festins de desmando' by Louis Armand contains four collages by Pharmakustik, exclusively created for this wonderful edition. In addition, a special video and soundtrack was produced at Pharmakustik-studio Germany for the book-launches in Lisbon and Prague 2023.
Ondřej Hrabal
Ondřej Hrabal (b. 1995) is a Czech poet—the winner of the 2018 national poetry slam championship, author of three collections of poetry, and one children's book. He performed his poetry at the largest demonstration in the Czech Republic after the Velvet Revolution, attended by 300,000 people. He is the frontman and lyricist of Bartleby (alternative rap). He organizes cultural events and literary festivals. He got his degree in Philosophy and English Philology at Palacký University (Olomouc, CZ). He also studied Creative Writing at the University of East Anglia (Norwich, UK) and Philosophy at the University of the Basque Country (San Sebastián, Spain). He is the CEO of Nugis Finem Publishing.
This Author / Performer's Events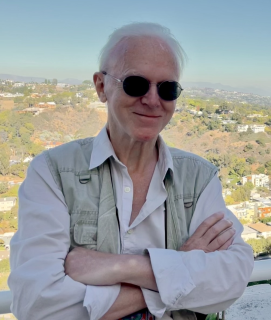 Trevor Joyce
Trevor Joyce is an Irish poet, currently living in Cork. His latest book is Conspiracy (Veer2, England; 2023).
This Author / Performer's Events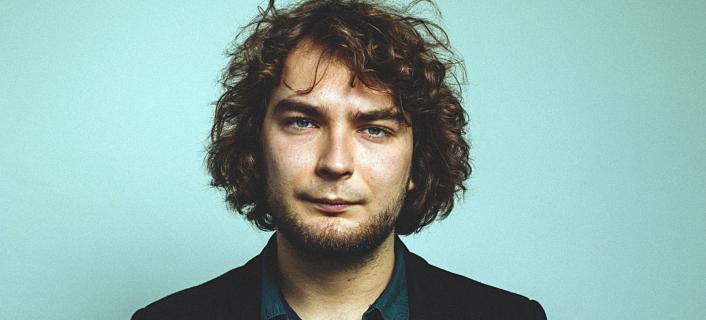 Radosław Jurczak 
Radosław Jurczak (born 1995) is a poet, philosopher and mathematician based in Warsaw, Poland. Author of two books of poetry – Pamięć zewnętrzna [External Memory, 2016] and Zakłady holenderskie [Dutch Books, 2020] – he has received, among others, the Warsaw Literary Award, the Silesius Poetry Award,  Bierezin Award and the Iłłakowiczówna Award. His work has been translated into English, Hungarian and Russian; English translations of his poems were featured by the Versopolis Project. He is a senior editor for "KONTENT", a journal of contemporary poetry and poetry criticism. In his poems, he blends political and ethical engagement with a genuine interest in the language and worldview of modern science and inspirations drawn from the rich historical tradition of literary forms.
This Author / Performer's Events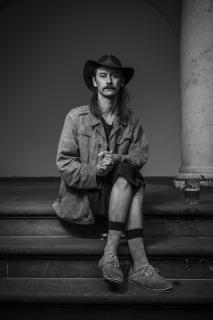 Filip Klega
Born in 1992 in Ostrava. He is a member of underground artistic group Vítrholc where he recites poetry and plays bass guitar. He is co-organisator  of author's reading series called Omlatina. His poems were published in anthology Pandezie and in international anthology Lines from Visegrad. His debut Andrstán (edition Mlat, Větrné mlýny, Brno, 2022) was awarded Jiří Orten Prize in 2023.
This Author / Performer's Events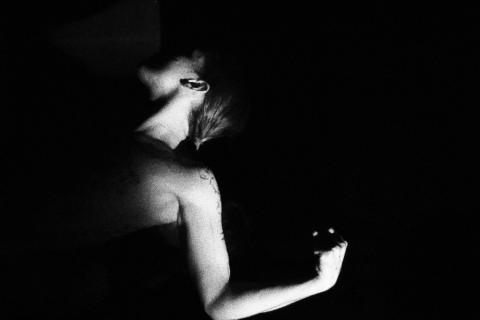 Michaela Králiková
Michaela Králiková is a dancer and performer working mainly in the field of contemporary dance and improvisation. She is a guest artist at the international theater studio Farm in the Cave in Prague which focuses on physical theater and multimedia theater forms. She studied dance at the Private Dance Conservatory in Košice (SK) and Art Factory International in Bologna (IT). She is a part of various contemporary dance performances, site-specific events and installations (her ongoing project: Lepetit, Little Prince by Credance company; Just Ask Her choreographed by Rado Piovarči, Deep Breath choreographed by Stanislava Vlčeková). She is an author of the movement research Sign Dance Project. The research was aimed to use Slovak sign language as a tool for creating new dance vocabulary that carries the symbolic at its abstract form. She was a former member of The Slovak State Traditional Dance Company in Bratislava (SK).
This Author / Performer's Events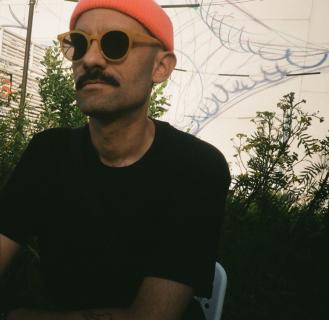 Milan Kroulík
Milan Kroulík is a young posthumanities researcher (Université Toulouse - Jean Jaurès, Charles University in Prague), photographer and novelist-to-be. He publishes on image thought engaged via anthropology, cinema, media theory and philosophy, while empirically experimenting with connecting technology and ritual, especially against Buddhist worldings and motion as conceptual ground. From these components, he works to transform infrastructures of thought to make them more fit for impossible futures.
This Author / Performer's Events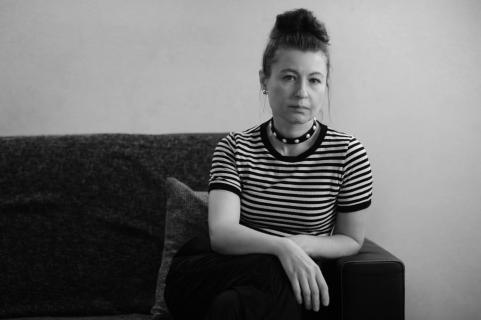 Svitlana Matviyenko
Svitlana Matviyenko is Associate Professor of Critical Media Analysis in the School of Communication of Simon Fraser University and Associate Director of the Digital Democracies Institute in Vancouver, Canada. Her research and teaching are focused on information and cyberwar, media and environment, infrastructure studies, and history of science. Recently she writes about the Soviet and the post-Soviet techno-politics, nuclear cultures, nuclear colonialism, and weaponization of energy infrastructure, focusing on the Chornobyl and Zhaporizhzhia NPPs, during the Russia-Ukraine War. She is a co-editor of two collections, The Imaginary App (MIT Press, 2014) and Lacan and the Posthuman (Palgrave Macmillan, 2018), and a co-author of Cyberwar and Revolution: Digital Subterfuge in Global Capitalism (Minnesota UP, 2019), a winner of the 2019 book award of the Science Technology and Art in International Relations (STAIR) section of the International Studies Association and of the Canadian Communication Association 2020 Gertrude J. Robinson book prize.
This Author / Performer's Events
Mother Criminal
Mother Criminal is a Prague-based DJ, promoter, director, editor, and founder of Bukolika, the annual DIY forest mania, temporary utopia, collective art body and promoting team. After years spent with writing and literary studies at Charles University in Prague, Mother Criminal, the alias of Tomáš Suchánek, finally anchored his passion for art in cinema. He debuted with an experimental film Dead Metaphor (2018) and, after a brief encounter with FAMU, started co-writing and co-directing shows, commercials and documentaries for Czech TV. At the moment, he works as a director, editor and curator of self-promotion videos for Prima TV. In his oeuvre, he focuses on the psychological, oneiric and mysterious. His latest independent works include music videos for Dmitrievna's track "Logika" (2020), Josefina Dusk's "Shuffle to the Traffic Sound" (2022) or soon to be released OGmiaG's "Inner Demons" (2023). Apart from his cinematic adventures, he also performs as a DJ. His idea of an ideal mix is this: to follow the trajectory of a missile cutting space and time from obese bass to razor-sharp breaks that hit hard and leave a crater in the echo.
This Author / Performer's Events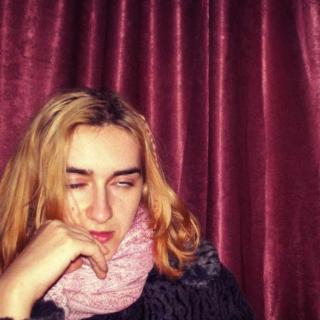 Sandra Pasławska
Sandra Pasławska, hailing from Poland (PL), living in Czechia(CZK) wears many creative hats. She's a performer, an integral member of David's Sister, holds the position of performance director at OBJECT:PARADISE, and contributes as an editor for KROTCH magazine. Her performances are a captivating fusion of intuition, interdisciplinarity, and transgression, all served with a strong dose of punk and feminism, among other elements.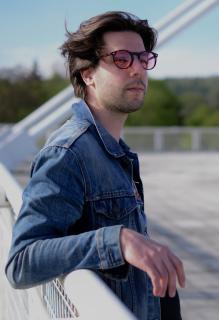 Jared Marcel Pollen
Jared Marcel Pollen is the author of The Unified Field of Loneliness: Stories (2019) and the novel Venus&Document (2022). His work has appeared or is forthcoming in, The New Republic, The Nation, Gawker, Liberties, The Los Angeles Review of Books, Jacobin, The Yale Review and Astra. He currently lives in Prague. 
This Author / Performer's Events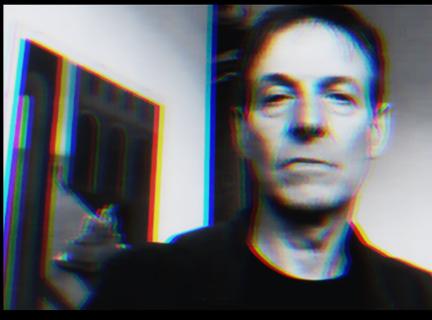 David Roden
David Roden is a philosopher and writer interested in dubious alternatives to our existence.  His monograph Posthuman Life: Philosophy at the Edge of the Human (Routledge) was published in 2014. His novella Snuff Memories was published in 2021 by Schism[2] Press. His short fiction/theory-fiction collection, Xenoerotics, is out in September 2023, also with Schism[2].
This Author / Performer's Events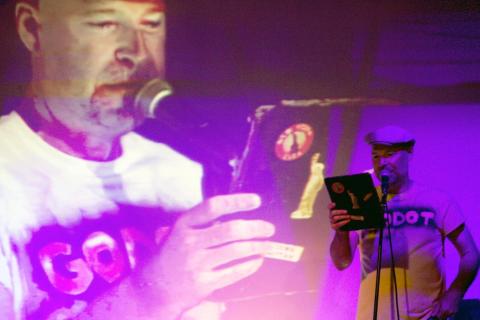 Michael Rowland
Michael John Rowland is a multi media artist living and working in Prague. His latest book, Infinity in Bits was published by Equus Press in 2022.
He is a member of Prague's Zvlášť Collective and co-curator of the online installation 'Isolation Collection'. Through the versatile array of his films, paintings, collages and writings, Michael questions all social and religious dogmas on the grounds that he was not invited to any of the founders' meetings.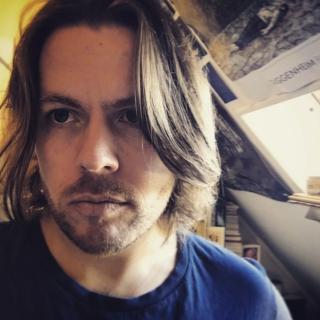 Tobias Ryan
Originally from Wales, Tobias Ryan lives in France where he works as a translator and Englsih teacher. He is Co-Editor in Chief on Minor Literature[s], and his writing and translations have appeared in publications such as Firmament, Berfois and Open Pen.
This Author / Performer's Events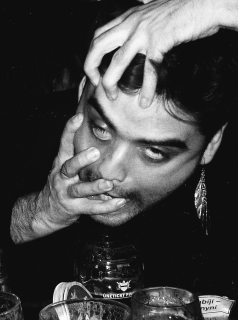 Tyko Say
Tyko Say (b. 1994) is a writer and curator interested in poetry as dialogue. His works aim to explore what that dialogue is, can be, and the implications & opportunities when poetics and the arts are conventionalized. Tyko is currently based in Prague. He is the Chairman of OBJECT:PARADISE, editor of KROTCH Magazine, a teacher at Prague School of Creative Communication, and plays in the sound project David's Sister.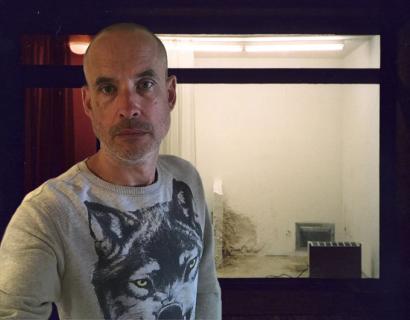 Gary Shipley
Gary J. Shipley is the author of numerous books, including The House Inside the House of Gregor Schneider (Cloak), So Beautiful and Elastic (Apocalypse Party), Bright Stupid Confetti (11:11 Press), 30 Fake Beheadings (Spork), You With Your Memory Are Dead (Inside the Castle) and Warewolff! (Hexus). His monograph on Baudrillard, Stratagem of the Corpse, is available from Anthem Press and Cambridge Core. He has been published in many literary magazines, anthologies and academic journals. More information can be found at Thek Prosthetics.
This Author / Performer's Events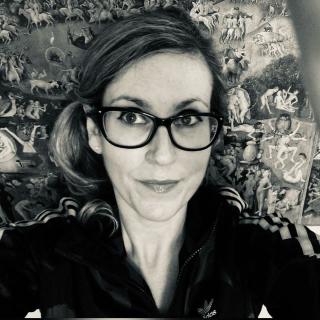 Vik Shirley
Vik Shirley is a poet, writer, editor, academic and critic from Bristol, England, now living in Edinburgh, Scotland. Her collection, The Continued Closure of the Blue Door (HVTN), her pamphlets, Corpses (Sublunary Editions), Grotesquerie for the Apocalypse (Beir Bua) and Poets (The Red Ceilings Press), and her book of photo-poetry Disrupted Blue and other poems on Polaroid (Hesterglock) were all published 2020-2022. Her work has appeared in such places as Poetry London, The Rialto, Magma, 3am Magazine, Tentacular, Perverse, Shearsman and Tears in the Fence. A Poetry School tutor, teaching on the Surreal Narrative and the Grotesque in Poetry, she has a PhD in Dark Humour and the Surreal from the University of Birmingham. A regular performer at the European Poetry Festival, Vik is Associate Editor of Sublunary Editions and editor of Surreal-Absurd for Mercurius magazine.
This Author / Performer's Events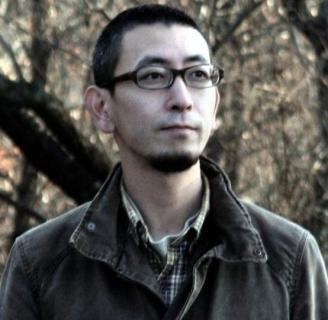 Kenji Siratori
Kenji Siratori is a Japanese glitch writer and a prominent figure in cybercult literature. His style combines elements of cyberpunk and experimental literature, heavily influenced by network society and digital technology. Siratori began his writing career on the Internet and his works have been published on various online platforms and websites. His style employs glitch art techniques to interweave literary text, chopping up words and structure, creating a unique spirit and delirium that appeals to the sensory perceptions of digital natives. Siratori's works are characterized by distorted letters and images, remaining unstable yet creating an enchanting and enigmatic world. His novels and essays reveal themes related to the complex relationships between computers and humans, the fusion of technology and the body, and other themes of modern society. Siratori's glitch literature has had a wide influence not only in Japan but also on artists and literature lovers around the world. His works not only set a new direction in cyberculture literature, but also make extensive use of glitch as a means of expression, making him a pioneer in the field of literary glitch. Kenji Siratori is recognised as a distinguished glitch writer who brings a new perspective to the contemporary literary scene and strongly influences the expression of the digital age. His works combine the philosophy of glitch art and the spirit of cyberpunk, bringing insights into the future.
This Author / Performer's Events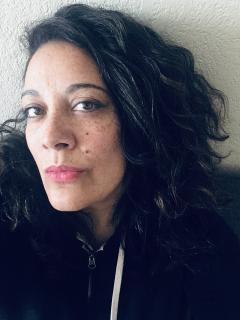 Yanina Spizzirri
Yanina Spizzirri is an artist and writer based in Los Angeles. Her photographic practice documents her daily passage through the city. Lately, she's been freelancing as a graphic designer and focusing on book design. As a multidisciplinary artist, she continues to venture into new creative terrain. She is also an editor for Minor Literature[s].
This Author / Performer's Events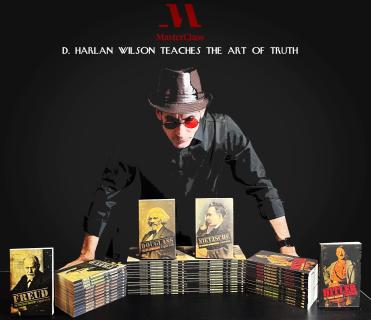 D. Harlan Wilson
D. Harlan Wilson is an award-winning American novelist, scholar, playwright, editor, and college professor, with over 30 book-length works of fiction and nonfiction to his name. Hundreds of his stories, essays, and reviews have appeared in magazines, journals, and anthologies across the world in multiple languages. Wilson serves as reviews editor for the academic journal Extrapolation, and he is editor-in-chief of the avant-garde publisher Anti-Oedipus Press. He is also the co-host of the Dickheads Podcast, devoted to the life and writing of Philip K. Dick.
This Author / Performer's Events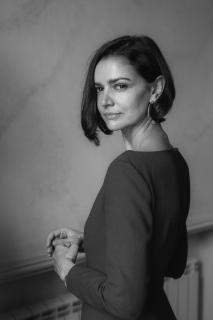 Lyuba Yakimchuk
Ukrainian writer Lyuba Yakimchuk was born in 1985 in Pervomaisk, Luhansk region, and currently resides in Kyiv, Ukraine. 
She is the author of several full-length poetry collections, including Apricots of Donbas, which sheds light on people's experiences in war-torn regions. She has earned several prestigious awards, including the International Slavic Poetic Award. The book was listed in Forbes magazine, Ukraine's Top 10 books about the war, and published in Ukrainian, English, French, Swedish, Polish, and Estonian.  Her writing has been translated into more than twenty languages. At the 2022 Grammy Awards, she performed her poem "Prayer" in English as part of John Legend's performance of his song "Free." Her book, Apricots of Donbas, has been recorded in French by Catherine Deneuve and the audiobook is set to be released in early 2024 by Edition des Fames in Paris.
In addition, she was named among the one hundred most influential people in the arts in Ukraine by Kyiv's New Time magazine (2015).
This Author / Performer's Events