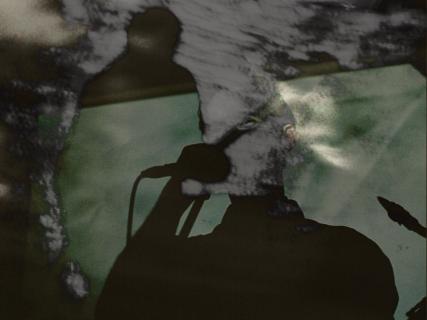 Anabatic Winds
Anabatic Winds (n.) - def.: Air flow travelling up a facing slope of an orographic surface (eg. hill, mountain). Vibrations riding the upslope of Sol Invictus. Anabatic Winds jsou novým projektem vzešlým z konstantních improvizačních sedánků v /-\ Anabázi. Trio ve složení saxofon + softw. (Bōhal), basa (Fissile známý též z Dreare) a software (Zlom) vzdáleně připomene tvorbu Kilimanjaro Darkjazz Ensemble / Mount Fuji Doomjazz Corporation v rozvolněnějším pojetí.
This Author / Performer's Events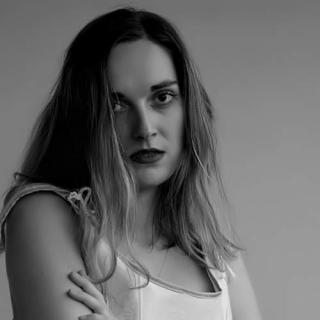 Andreja Štepec
Andreja Štepec is a graduate of Italian literature and a professor of pedagogy and andragogy. Her poetry was published in magazines such as I.D.I.O.T., Sex Zin and Lud Literatura and translated into German, Russian, English, Albanian, Hungarian and Spanish. She has been performing and participating at readings on different locations in Slovenia and abroad. Her poetry debut Edit Paf was published in May 2018 by LUD Šerpa and was chosen for a critical discussion at Pranger Festival in June 2019. Currently she is engaged in making video poetry and has already released a compilation of poems from her upcoming book Jesenožki  which was part of the 25th Slovenian Book Days as well as the European Poetry festival 2020 and a separate video entitled Fnt moj, bodi moj dobar klastrfak (Hey boy, be my good clusterfuck). She lives and works in Ljubljana.
This Author / Performer's Events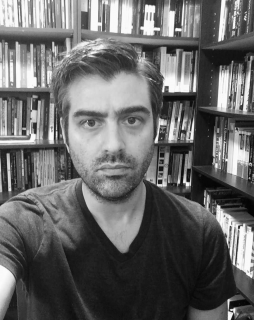 Ania Malinowska + Andrew C. Wenaus + Christina Willatt
Andrew Wenaus is a Canadian author, composer, and literary theorist. He is assistant professor at the University of Western Ontario's Department of English and Writings Studies and a member of UWO's Complex Adaptive Systems Lab. He is the author of The Literature of Exclusion: Dada, Data, and the Threshold of Electronic Literature (Lexington, 2021) and Jeff Noon's Vurt (Palgrave Macmillan, 2022). With Christina Willatt he has recorded, arranged, and performed electro-acoustic scores for theatre, dance, film, and contemporary classical ensemble. Christina is a Canadian singer, pianist, organist, composer, and music director and educator.  She has performed opera, new music, and electronic music in Canada, the United States, and Europe. 
Ania Malinowska is a cultural theorist, poet and author. She is Professor of Media and Cultural Studies at the University of Silesia in Katowice and a former Senior Fulbright Fellow at The New School in New York. She has published cultural criticism and fiction associated with posthumanism and cultural semiotics, and specifically with technologically shaped love practices and emotional traditions under digitalism. An author of fiction and poetry, Malinowska is a proponent of "textrapolation", a method of poetic experimentation based on intuitive assemblage she employs for her cutout and stamp poems. Malinowska is also a licensed hypnotist and uses hypnotic methods for a better understanding of AI affordances.
This Author / Performer's Events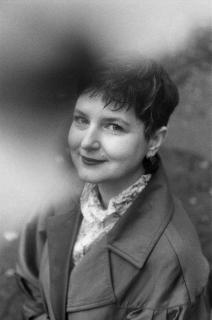 Asja Bakić
Asja Bakić (1982) is a Bosnian/Croatian author and cultural critic. She has published a book of poetry It Can Be a Cactus, as Long as it Pricks (2009), two short story collections Mars (2015) and Sweetlust (2020). Her fourth book, Come, I'll Sit on Your Face (2020), is a collection of essays on pop culture she originally wrote for the feminist website Muf (2014 – 2018). Bakić was selected as one of Literary Europe Live's New Voices from Europe2017. In 2019 Mars was published by Feminist Press in New York. Publishers Weekly included the collection on its annual best fiction list. German edition (Verbrecher Verlag, Berlin) came out in 2020.
This Author / Performer's Events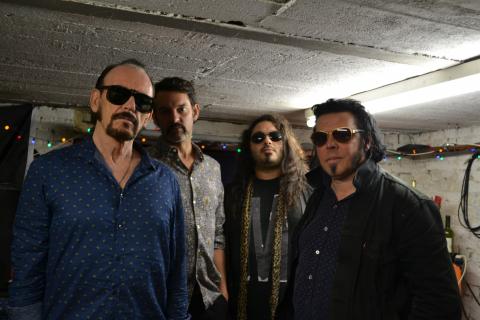 Dim Locator
Dim Locator (UK/AUS/DE/GR) is a band formed from the ashes of the legendary Berlin band Fatal Shore. Dim Locator comprises: Phil Shoenfelt (vocals/guitar), Chris Hughes (drums), Baron Anastis (bass) and Daniel Plashues (guitar). Phil Shoenfelt (UK) has lived in Prague for many years. He is known for his work with bands such as Southern Cross (Prague), Fatal Shore (Berlin) and Khmer Rouge (New York), as well as for his cult novel "Junkie Love". Chris Hughes (AUS) is originally from Melbourne, but has lived in Berlin for many years. He has played drums with Fatal Shore, Hugo Race, Mick Harvey, Alexander Hacke, and at present Crime & The City Solution. Baron Anastis (GR) is originally from Thessaloniki but now lives in Berlin. Daniel Plashues (DE) lives in Berlin and plays ambient guitar. An occasional guest member of Dim Locator is Kristof Hahn (Swans) on lapsteel guitar.
For the Prague Microfest show, there will be a special one-off lineup of Phil Shoenfelt, Chris Hughes and Czech electronic bass and keyboard maestro David Kabzan. Dim Locator describe their music as "stripped-down industrial psych-rock-blues". The band has an original and eclectic mix of influences ranging from The Stooges, Beasts Of Bourbon and The Birthday Party, to Pink Fairies, Hawkwind, Can and Neu!    
This Author / Performer's Events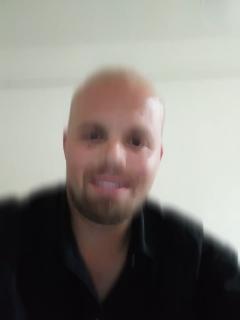 Dustin Breitling
Dustin Breitling is one of the founders of Diffractions Collective. He has curated Thanatropic Regressions (2014), an installation which focused on the implications of accelerationism approached through the theoretical prism of geo-philosophy, and was co-organizer of Frontiers of Solitude project (2016), the Reinventing Horizons conference (2016), and the Wyrdpatchworkshop I-IV (2018-2019). He is co-editor of Reinventing Horizons (display, 2016) and Allegorithms (Litteraria Pragensia Books, 2017) and is curating a series Gaming the Aftermath.
This Author / Performer's Events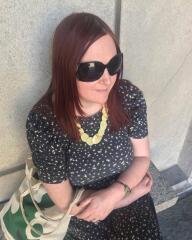 Ellen Dillon
Ellen Dillon is a poet and teacher from Limerick, Ireland. Her most recent book, Butter Intervention, was published by Veer 2 in 2022, and Morsel May Sleep appeared with Sublunary Editions in 2021.  Other books and pamphlets include Heave (Smithereens Press, 2018), Sonnets to Malkmus (Sad Press, 2019), Achatina, achatina!  (2019, SoundEye Press) and Excavate (Poems after Pasolini) (2020, Oystercatcher Press). She also edited the Free Poetry Irish Anthology (Free Poetry, 2017).
This Author / Performer's Events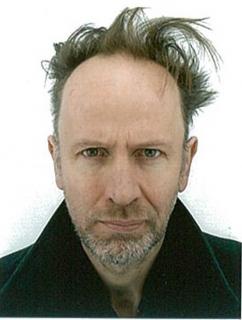 Fergal Gaynor
Gaynor Fergal was born in 1969 in Ireland. Poet, literary and art critic, curator and editor. Fronted various bands, all with the name 'Johnny' as prefix, in the late nineties. Around 2000 founded the art group 'Art / Not Art' with Dobz O'Brien, which, with Charles Esche and the National Sculpture Factory, curated the Cork Caucus in 2005. Became involved, in the late 2000s, in the organisation of SoundEye Festival of the Arts of the Word, introducing a 'promiscuous cabaret' and various art gallery-based events. Published VIII Stepping Poems and Other Pieces in 2010 with Miami University Press. Co-editor, with Ed Krçma, of art magazine Enclave Review. Runs SoundEye Press with Trevor Joyce. A second poetry collection, Clio's Ground, is being prepared for publication. 
This Author / Performer's Events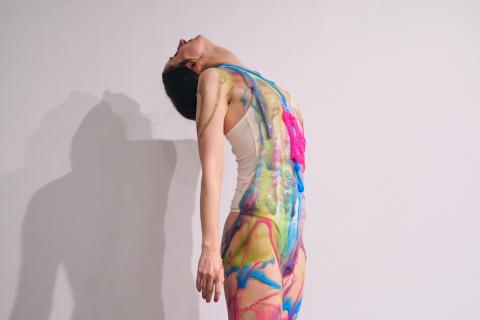 Jana Orlová
Jana Orlová is a Prague-based performance artist, poet and researcher. Her theoretic and artistic background enables her to work both as a curator and art critic. Her poetry has been translated into several languages including Hindi and Chinese. In her practice, performance art is a living poetry and she perceives her body as a field of event, working with ritualistic and holistic approaches. Her work is marked by a combination of a minimalistic form and a raw statement. In 2017, she was praised by Next Wave Festival as a one "who challenges the borders between literature, visual art and theatre with a natural lightness." As a researcher, she is focused on a distinction between performance art and theatre.
This Author / Performer's Events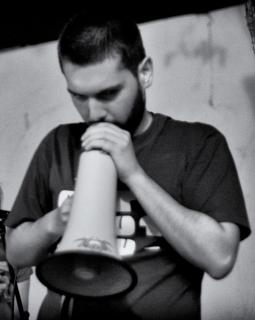 Jazra Khaleed
Jazra Khaleed is a poet, translator, and filmmaker. He lives in Athens and writes exclusively in Greek. His works are an indictment of fascism, social injustice, police brutality, and racism in contemporary Greece. His most recent publications are Requiem für Homs (parasitenpresse, Germany, 2022) and Requiem pour Homs et autres poèmes (Marges en Pages, France, 2022). His poems have been widely translated and have appeared in The Guardian, The Los Angeles Review of Books, World Literature Today, Lichtungen, Manuskripte, Die Horen and other publications. As a founding editor of the Athenian poetry magazine Teflon, he has introduced to a Greek readership the works of Etel Adnan, Amiri Baraka, Audre Lorde, Ghayath Almadhoun, Safia Elhillo and Bert Papenfuß. His short films have been screened at international festivals across the world.
This Author / Performer's Events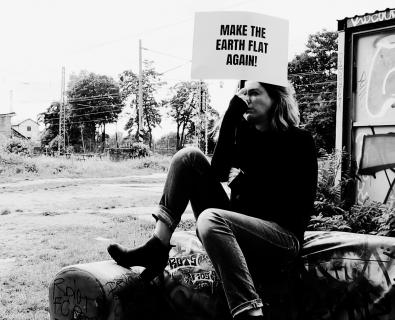 Jo Blin
Jo Blin is an angry immigrant and a multimedia artist currently based in Prague, where she co-founded the Obejvák project space.
Often lost in light pre-apocalyptic thoughts, her experiments, images and words go from bold statements to vain protests, unheard prayers, and powerlessness-infused self-portraits. But don't worry, she's okay.
This Author / Performer's Events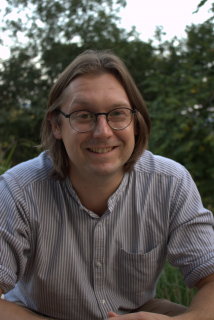 Joe Darlington
Joseph Darlington is a writer from Manchester, UK. His experimental writing includes the hybrid quiz book / novella Quiz Night and the novel Spare the Glass Picnic (both available from www.josefadarlington.co.uk). He has also published mainstream fiction (The Girl Beneath the Ice, Northodox, 2022) and non-fiction, including a collective biography of 1960s British Experimental writers: The Experimentalists (Bloomsbury, 2021). He can be found on Twitter at @Joe_Darlo.
This Author / Performer's Events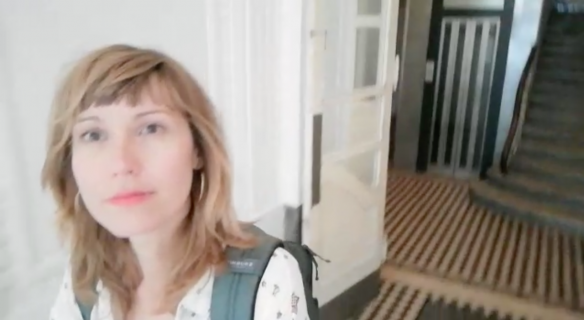 Judith Nika Pfeifer
She is a writer and artist, publishes poetry, prose, scenic texts, radiophone and performative works. Exhibition participations, photo and video works, installations. Reinhard Priessnitz Prize 2012. Lives and works in Brussels and Vienna. Numerous national and international collaborations and festival participations. Publications include Violante (Czernin 2017). tucsonics (Hochroth 2019). Judith Nika Pfeifer's approach to language, be it in her poems, her prose, her radio, photo and video works, is as playful as it is multi-layered, not only describing with words, but making something tangible with and through words, bringing together seemingly incompatible things. In addition, she develops - often in collaboration with other artists - participatory exhibition and performance projects, most recently together with Guadalupe Aldrete, Maria Hanl, Friederike Mayröcker, Edith Payer and Synne Genzmer "What's the time", fluc 2021. Coming up: Urban Magic (2022) together with Lukas Matthaei.
This Author / Performer's Events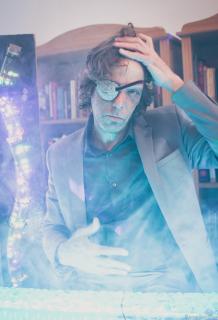 Justin Lavash
Justin Lavash (born London 1968) has been based in Prague for thirteen years. He has written or co-written and performed songs by some of the Czech Republic's most respected artists - Lenka Dusilová, Michal Horáček, Sunflower Caravan, Monika Načeva and he has also worked with Radůza, DG307 and Vladimír Merta. Two of his songs ("Brother" and "Dizzy and stranded in Prague" were on releases which received prizes in the Czech gramophone industry's Anděl awards in 2012 and 2013. His 2015 studio album, Changing of Tides (Tranzistor, May 2015) shows Lavash flexing some songwriting muscle and his 2016 release Programmed saw an audacious fusion of bottleneck blues and electronica styles and earned top marks in Czechia's prestigious Reflex magazine as well as extensive airplay on Prague's Radio1, among others.
This Author / Performer's Events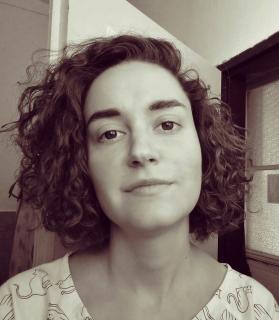 Klára Goldstein
Klára Goldstein got a degree in Czech studies at the Faculty of Arts of the Palacký University in Olomouc, and she focuses on interwar period poetry and the life and work of Pablo Neruda and his reception in Czechoslovakia. She is the author of collections Charcoal Piles (Weles, 2016), Cenotaph (Host, 2018), Falkenfrau (Host, 2021), for which she was nominated for Magnesia Litera, and of the monograph Attempting an Infinite Neruda (FF UP, 2020). Her latest collection, Rains of Maiernigg was published this year by Odeon. She occasionally translates and has been contributing to the on-line branch of the Host magazine, H70, with her columns. She has been published in magazines such as Host, Tvar, A2, Weles, Aluze, iLeGaLit, Texty or DR. She organises evenings with literature and music in Valašské Meziříčí and Olomouc.
This Author / Performer's Events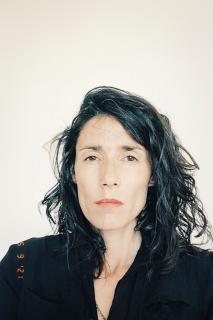 Lara Portela
Lara is a visual artist living in Lisbon. She did her studies in Visual Arts and is currently enrolled in a Master of Museology. Her artistic practice, between the visual and the performative arts, is triggered by archives and collections, either personal or otherwise, where narratives, originally dispersed, are bound into the same context or thread. With a focus on images and objects, its appropriation, deconstruction and re-creation, she relates layers of memory, history, time, space, and data classification and organization, looking for the lines between presence and absence, interior and exterior, public and private, history and everyday life, creating objects ranging from drawing to performance, from writing to installation, from photography to painting.
This Author / Performer's Events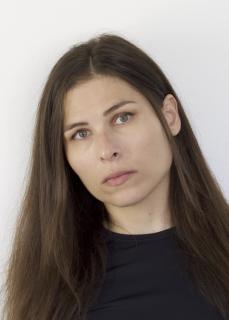 Lenka Veselá
Lenka Veselá is a PhD researcher at the Department of Theory and History of Art at the Faculty of Fine Arts in Brno, Czech Republic. Her art-based research practice concerns "synthetic bodies" (bodies emerging by synthesis) and "synthetic bodies of knowledges" (knowledges synthesized across multiple sites). She is an initiator of a collective publication and exhibition project Synthetic Becoming bringing together work by artists, activists, and feminist technoscience practitioners concerned with sympoietic becoming with hormones and hormone-disrupting chemicals. Building on material feminist, new materialist, and posthumanist lines of thought and embracing queer ecological sensibility, the project is a series of critical but hopeful provocations that affirm posthuman mutability and articulate our "synthetic becoming" in ways that facilitate and promote caring relations. In so doing, they allow us to envision and enact hopeful futures as we learn to live well with and despite these peculiar chemical agents. Recent publications include "Hormonal Design: Synthetic Sex Hormones and the Management of Living" and "Artistic Research as Academic Borderlands".
This Author / Performer's Events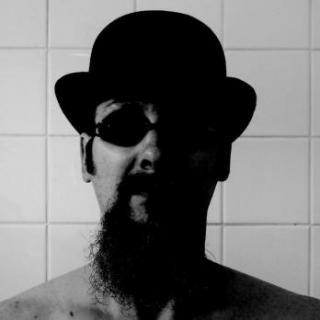 Louis Armand
Louis Armand is a Prague writer, theorist & visual artist. His novels include, among  others, Vampyr (2020), GlassHouse (2018), The Combinations (Equus, 2016), Abacus (2015). His theoretical works include Videology (2015), Solicitations (2013), Event States (2007), and others. In addition, he is the author of eleven collections of poetry — most recently Monument (with John Kinsella, 2020), East Broadway Rundown (2015), and others. He is formerly an editor of VLAK magazine & Directs the Centre for Critical & Cultural Theory at Charles University, Prague.
This Author / Performer's Events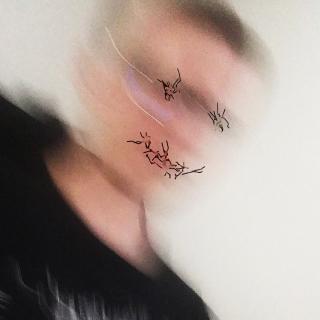 Lukáš Prokop
Lukáš Prokop is currently studying a master's program at FFA BUT's Video studio. Abstraction, complexity and experimentation are of key importance in the thematical infrastructure of his work, materialized through labyrinthine 3D modeling processes, digital image manipulation and post-processing. His alias, h5io6i54k, is closely tied to the experimental electronic music scene via the creation of music videos, cover graphics or A/V collaborations. His work has been exhibited in Galerie Mladých, Zaazrak|Dornych, his works include Whisper Divulging, Svitanie, Opilio, and the long-term collaboration with labels and collectives include Genot Centre, Gin&Platonic or SOfT, among the most noteworthy of his projects to date.
This Author / Performer's Events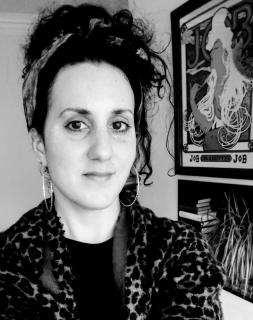 Madelaine Culver
Madelaine Culver is a writer and poet originally from London. Based in the North East of England, she's enjoying the region's vibrant arts scene whilst studying for a practice-based PhD at Northumbria University. Incorporating a range of experimental art and poetry practices, her work engages with the affective and ideological dimensions of women-led narratives within post-millennial British horror cinema. Tweets under @fromxthextower
This Author / Performer's Events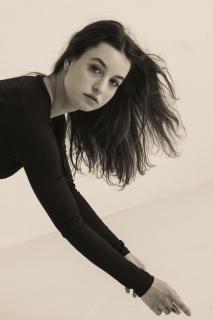 Magdalena Kawecka
Magdalena is a dancer, actress, performer, student of the Academy of Theater Arts, department of dance theater, and a graduate of the Krakow Opera Ballet School. She works with choreography, acting and conceptual improvisation. Her search in motion is primarily about opening a new field of imagination through the body. She will perform over prerecorded reading of works of Rainer Maria Rilke. The performance will consist of projection with text, music and dance improvisation. It's about physical solidarity within you and your own body, and between you and others.
This Author / Performer's Events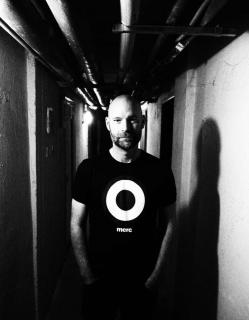 Michael Rowland
Michael John Rowland is a member of the Prague based Zvlášť Collective and Obejvák Project Space collaborative. He is Co-founder of the Alt*Art Society with Chantelle Goldthwaite; an international project set up to promote collaborative art projects around the world. He is also Co-Curator of the online gallery 'Isolation Collection'.
This Author / Performer's Events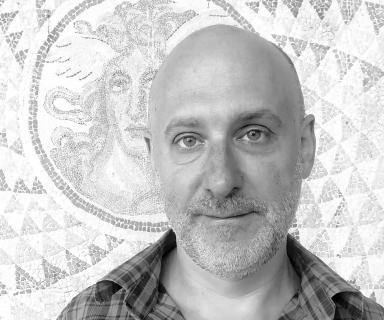 Michael Stein
He is a writer, editor and journalist based in the Czech Republic and has published short stories and journalism with a number of European and American magazines. He operates the website Literalab reports on Central European writing and he has written for literary journals such as Transitions, Asymptote and The Review of Contemporary Fiction. He is an editor at the Prague-based journal B O D Y and runs its Saturday European Fiction in translation series. His own fiction has been published in The Missing Slate, Panel and McSweeney's, among other magazines.
This Author / Performer's Events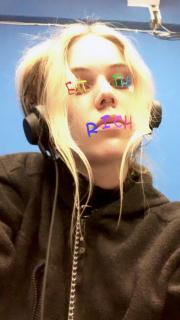 Noemi Purkrábková
Noemi Purkrábková is a media theorist, art writer, curator, DJ and co-founder of the amorphous audio-visual collective BCAAsystem, exploring future territories somewhere between music and visual arts. Together they are involved in a variety of projects, from audiovisual performances to video work, writing, gallery exhibitions and music label activities. She is an editor of Art Antiques magazine and a contributor to a number of others, as well as a PhD candidate at the Film Studies department of the Faculty of Arts at Charles University in Prague, where she deals primarily with productive poetics of digital fiction and ontogenetic qualities of contemporary moving image (art).
 
This Author / Performer's Events
Šimon Leitgeb
Šimon Leitgeb is a Czech poet and the 2021 winner of the prestigious Cena Jiřího Ortena (Jiří Orten Award) for his book Betonová pláž. He is also the author of the 2017 book Mezi náma (Petr Štengl Publishing House, 2017). Mr. Leitgeb has received various awards for his poems in literary competitions throughout the Czech Republic and has published poetry in Czech magazines such as Tvar, Host, and Lidové noviny. In 2016, his verses were listed in the anthology The Best Czech Poems. Mr. Leitgeb is an avid traveler and has been invited to read his work at literary events in Ukraine, Iceland, Romania, Austria, and Slovakia. Within the Czech Republic, he regularly organizes literary events in various cities and towns, as well as collaborates with local and international writers and artists. He has organized the festival Literatura žije! (Literature lives!) for the past three years, and is the host and creator of the literature and music event series called Mezi náma.
This Author / Performer's Events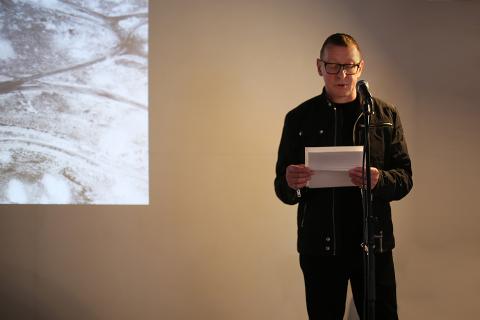 Steve Finbow
He is a writer and artist currently living in London. His works include Allen Ginsberg: Critical Lives (Reaktion Books (2012), Grave Desire: A Cultural History of Necrophilia (Zero Books, 2014), Notes from the Sick Room (Repeater Books, 2017), Death Mort Tod: A European Book of the Dead (Infinity Land Press, 2018) and The Mindshaft (Amphetamine Sulphate, 2020). His new project The Life of Niccolò di Mescolano – based partly on Giorgio Vasari's  Lives of the Most Excellent Painters, Sculptors, and Architects – will be published later this year.
This Author / Performer's Events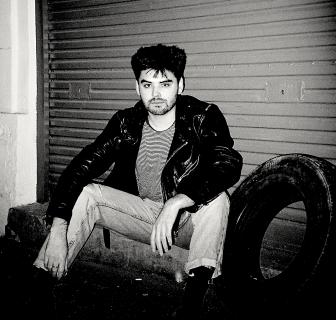 Tyko Say
Tyko Say is a Prague-based writer and curator working to promote poetry as a pragmatic, performative action. He is the founder of the performance & poetics collective OBJECT:PARADISE and editor of KROTCH Magazine both of which aim to celebrate low-brow and accessible language-use.
@TykoSay
This Author / Performer's Events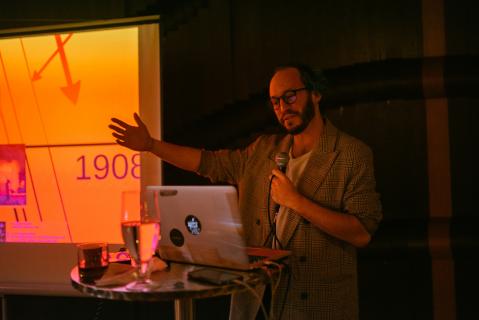 Václav Janoščík
Václav Janoščík is a pedagogue, theorist and curator currently teaching at Academy of Fine Arts (AVU) and Academy of Arts, Architecture and Design in Prague (UMPRUM). He edited several volumes on problems of contemporary thinking ranging from new materialism, speculative realism, acceleration, future and media theory (Object, 2015 [CZ]; Reinventing Horizons, 2016; Mind in Terrain, 2018 [CZ]; Back to the Future (2019) [CZ]). His own books include Nonsleeping (2018) [CZ] giving a highly personal account of social acceleration or abstraction, and Straining the Contemporary, Detective Search for a Shared World (2020) [CZ], Dystopian Realism, How to learn through Capitalism and Dark Futures (2022) [CZ] which try to reinterpret and weaponize pop-culture. He curates extensively, focusing on expanding art into gaming, technology or experimental and collaborative practices. He focuses on political ecology (of affects), vernacular ontologies, philosophy of technics and media, democratization of contemporary art, thinking, and gaming.
This Author / Performer's Events