17.30 - 17.45 Nina Dragičević
Sunday 1 November 2020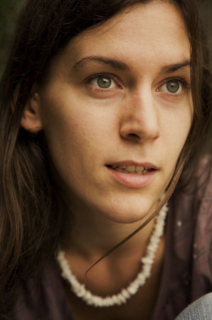 Nina Dragičević
Nina Dragičević is a poet, essayist, composer and a holder of the Master's degree in Sociology. She is the author of four books: the novel Kdo ima druge skrbi (Who's Got Other Concerns, 2014), essayist monographs Slavne neznane (Famous Unknowns, 2016) and Med njima je glasba (There Is Music Between Them, 2017) as well as the long poem Ljubav reče greva (Love Says Let's Go, 2019). In 2019, she was the author in focus at the international festival of contemporary arts The City of Women. Nina is a member of the Slovenian Writers' Association. In 2018, she won The Knight of Poetry competition, and was the first in its history to receive both the Jury Award and the People's Choice award. The same year she was presented the Outstanding Achievement Award of the University of Ljubljana. In 2018, she was shortlisted for the European award Palma Ars Acustica. Her poetry book Love Says Let's Go was in 2019 shortlisted for both the Veronika and the Jenko Award.
Interactive Reading
Click the video images to start the video.
Click the first slide to start the slideshow.