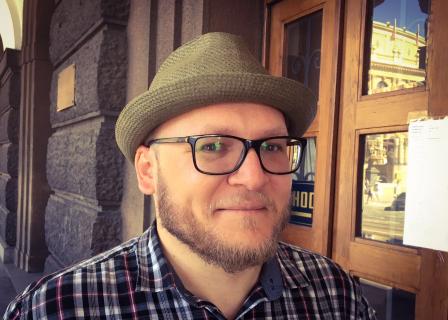 David Vichnar
David Vichnar (*1983) is senior lecturer at the Department of Anglophone Literatures and Cultures at Charles University Prague. He is also active as an editor, publisher and translator. His publications include Joyce Against Theory (2010) and Subtexts: Essays on Fiction (2015), his edited publications include Hypermedia Joyce (2010), Thresholds (2011), Praharfeast: James Joyce in Prague (2012) and Terrain: Essays on the New Poetics (2014). He is active as translator both from/into English: he has translated into English Philippe Sollers' H (from French) and Melchior Vischer's Second through Brain (from German), as well as Louis Armand's Snídaně o půlnoci (English-Czech). He has been active as programme director of the annual Prague Microfestival and manages Litteraria Pragensia Books and Equus Press. He was also active (2006-2016) as editor-in-chief of Hypermedia Joyce Studies, the first online journal of Joyce scholarship. His articles on contemporary experimental writers as well as translations of contemporary poetry and fiction—Czech, German, French and Anglophone—have appeared in numerous journals and magazines.
This Author / Performer's Events
Interactive Reading
Click the video images to start the video.